The physical print process
And so, experimenting with photo transfer printing using laser printer photo images onto white plastic, transparent perspex and a contact adhesive silver mirror surface.
Technical difficulties to overcome:
applying the paper image smoothly to the substrate;
removing air bubbles;
not tearing the wet paper before it's had a chance to dry;
proofing the laser printer in black and white to establish the available, printable, tonal range for processed images;
establishing the impact that substrate nature and colour has on final image appearance, sharpness, "glow" and tonal quality.
Things to do….
Currently at the drying phase.on the left, an old flexible silver mirror, made from silver contact adhesive foil and 3mm plastic sheeting – image is a black and white print; in the middle is are my tools: foto potch, roller, brush and ruler, the potch is water soluble but dries fast so the brush needs special care and rinsing after use; in the middle also is the transparent perspex with a b&w image on it (I don't know yet if the image should be on the front or the back, lets see what it adds to the pic; lastly on the left is a white plastic sheet with a high key colour image. Next step after drying is to wash the paper off. According to instructions, ten minutes drying time should be enough, but others have recommended, particularly for this type of substrate, a longer drying time. So we'll see later today after a bit of time behind the window and in the direct sun.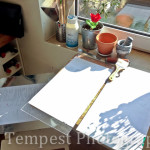 Now the clean up, washing the paper off of the substrate and leaving the image (or most of it) still in place…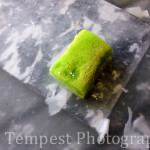 Finished. My very first 3 pieces of contact printed laser printer image transfer. In some ways I'M happy with the result. Its causing me to ask question about what went wrong and how I can do it better next time, what were the strengths and weaknesses of each type of material, and how should I change my image processing to optimize the printed results? The mirrored image (feet) has a lovely glow to it, that is missing from standard b&w prints these days. I love the transparence aspect of the perspex, I guess that's why acrylic block is so popular. I also like the white plastic, but oh so soft and easy to damage.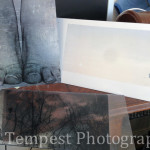 The prints on the wall. It's a start.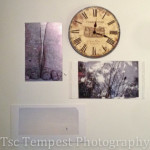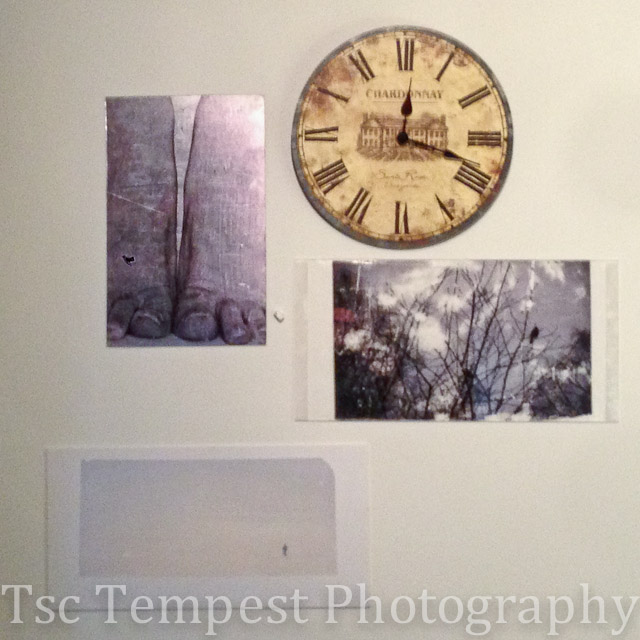 For today, that's what's in my,
Line of Sight.