Photographic Inspiration
Admiration, Influence, and Inspiration are three words that touch on a very crucial aspect of photographic process. They each touch on how we respond to, or identify our Heros, our Mentors, and our Muses.
I've been wallowing recently, struggling with Assignment Seven, on The Photography Institute Freelance Photography Course, and I'd like to share what I've finally come up with.
Heros are those people at the cutting edge of our particular field of photography. They are the movers and shakers, the ones who excel above and beyond the better than average. Typically we might identify with only one or two. We may not always like everything that they do but we do admire something about what they produce. Heros can inspire us, they can influence what we do, and they can be a beacon showing us what is possible.
If I were to identify one photographer as a Hero, I guess, for me, it would be Dean Collins. His technical understanding of light and his easy ability to communicate his understanding to others while still maintaining a sense of humour was compelling. his Finelight Series has above all else shaped my understanding of photographic lighting.
Who would you consider to be your photographic Hero?
Mentors are those around us, who we associate with, who guide us through ongoing pursuit in photography. They help us to understand processes and prompt us to do and see and strive. They can be real life friends and/or colleagues that we respect or look up to; professional leading lights whose paths we regularly and periodically cross; our tutors and instructors from courses in photography that we might take; or, authors of books to which we regularly return.
My mentors have changed over time: this will always be the case. For me Fabian K. Beal through his book, Photography Explained, is an example of an Author/book that I can not be without. This text to me is indispensible.
Through the Photography Institute course, George Seper and Steven Vote both of whom are decent Food Photographers, are current mentors; George through his texts and Steve through his tutorship.
In Hanoi, three people come to mind that I might consider to be mentors of sorts. Tim Page, former Vietnam War Corespondent and now does much work to support the development of photojournalism in Vietnam, Ed Halpen, an American foreign corespondent and photographer  at large  and Ian Morton, a stock photographer and freelancer specialising in South East Asia.
Who would you consider to be a Mentor and why?
Muses are much harder to find. They are fleeting and their impact whilst sometimes mentally earth shattering can also be fleeting. A muse is something or someone that inspires us, causing us to act, often immediately.
They get under our skin and create an irresistible itch that needs to be scratched. A powerful and passionate infatuation that must be explored regardless of the cost or time. Muses occupy our waking thoughts and our dreams at night. Once in their grip we are held captive until whatever desire to act, to create, to emulate, has been satisfied. And after, the moment passes with no more recollection than that of a dream.
It has taken me quite some time to unravel this. I am periodically gripped by such photographic muses. But also by other muses that result in photographic documentation. My food blog, The Baitlayer – A Circus Cook's Diary, contains many references to things done with food that I just had to do, and photograph.
Food is an ongoing thing that I return to. I look at it from many perspectives, documentation, product, illustration, advertising illustration, art; the approach to it can be as varied as any other sort of photography. It is a love and hate relationship. It inspires me and then leaves me spent, exhausted, forlorn. It's almost like being on a bi-polar rollercoaster.
It's funny now, that I make the connection that two of my mentors are well versed in Food Photography. At the start of my course, I really didn't make the conscious connection, a "yeah, that's interesting" and then file it away in the back of the brain somewhere to be promptly forgotten. I tend to do a lot of that. But are my mentors sources of Inspiration? Weeeell, no… Not really. Their photos really cause me to look, to ponder, consider, "How did they do that?" and so forth, but their images don't get under my skin.
Allow me to give some examples. A while back I came across a reference to a new IKEA food book, shot by Carl Kleiner and Styled by his wife Evelina. No sooner had I seen the images I needed to do something. So, I baked. And I shot the product, deconstructed as a pattern of ingredients.
More recently, while wrestling with and trying to find an inspiring Food Photographer, I came across Patrice de Villiers  and amazing as her shots were, the photographer who's work had me turning in my early morning sleep was Caren Alpert  with a shot of a pod of Star Anise. I had to shoot this, had to do something.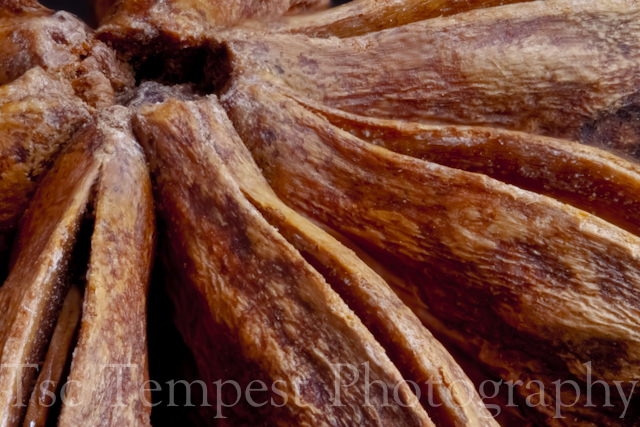 In doing so I reconnected with a well and truly forgotten technique I'd happened across, (that's interesting, file in the back of the brain) called focus stacking. Doh! I haven't finished doing the shot, but believe me it's burning away in my imagination like a hot, little ember. Now that's what I call Inspiration!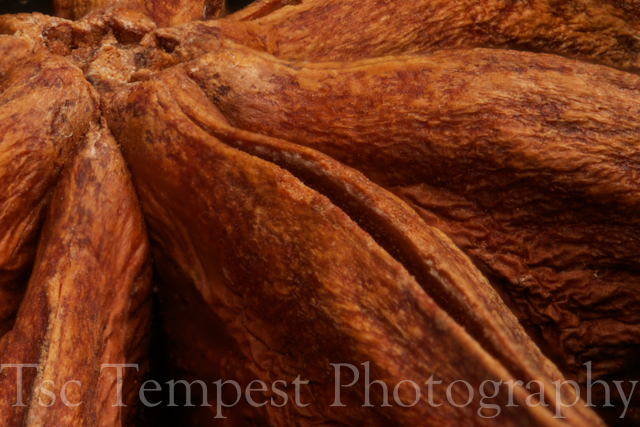 Which photographers inspire you, and what have you done as a result of that inspiration?
A last thought. Most of the time the works that inspire us are the works of friends, colleagues, associates, etc. I have a list of Favourite images on Flickr  which are, "Ohhh! Ahhh! Wow!" shots that for whatever reason at the time caught my imagination.  As a process of this reflection above, I've identified many photographers that I admire and find interesting, but there is also a background against which all of this plays itself out. This is best exemplified by the fantastic source of archival images, Masters of Photography  to which I periodically return to browse and explore. Highly recommended. Also, thanks recently to Jenn Oliver of Jenn Cuisine for a great list of sites and resources for inspiring Food Photography.
For today, that's what's in my
Line of Sight.
—–Addendum—–
Here's a list, in no particular order, of photographic mentors, heros and muses that I found interesting and worth considering. Perhaps you will too:
Terry Palka
Cindy Sherman
Steve McCurry 1 and Steve McCurry 2
Mike Langford
George Seper
Steven Vote
Patrice de Villiers
Caren Alpert
Dean Collins
Daido Moriyama
Mike Ware
Fabian K. Beal
John Hedgecoe
Patrick Anson, 5th Earl of Litchfiled
Anthony Armstrong-Jones, 1st Earl of Snowdon
Craig Barber
Pinky M. M. Bass
Willie Anne Wright
Ruth Thorne-Thompson
Christopher Bucklow 1 and Christopher Bucklow 2
T.R. Ericsson
David Duchemin
Rachel Masako
Carl & Evelina Kleiner
Tim Page
Ian Morton
Masters of Photography