Measuring Exposure
Now, all this recent discussion about Zone Meters and dynamic range stems from a need to be able to determine Exposure as best as I can with my camera. My camera, the Canon EOS 7D comes with four built in methods of measuring light and hence, determining the correct exposure for a scene. These methods are:
Evaluative Metering
Partial Metering
Spot Metering, and
Center-weighted Average Metering.
Of these, Center-weighted Average Metering most resembles how my old, Ashai-Pentax SP500 used to actually work, which I always thought and used as if it had Spot Metering. But, I didn't always rely on just the camera's meter, my step-father bequeathed me his hand held, Hanimex-Sekonic analogue Light Meter (with low light adapter plate) which allowed me to start to control exposure somewhat more, although it was best used for portraits.
More recently, not sure if it was functioning properly or if it's recommendations would match those of my dSLR, I bought a new, Sekonic L-308S Flashmate, so that I could test my studio strobes when setting up a shoot in my studio. Here they are, side by side, so to speak: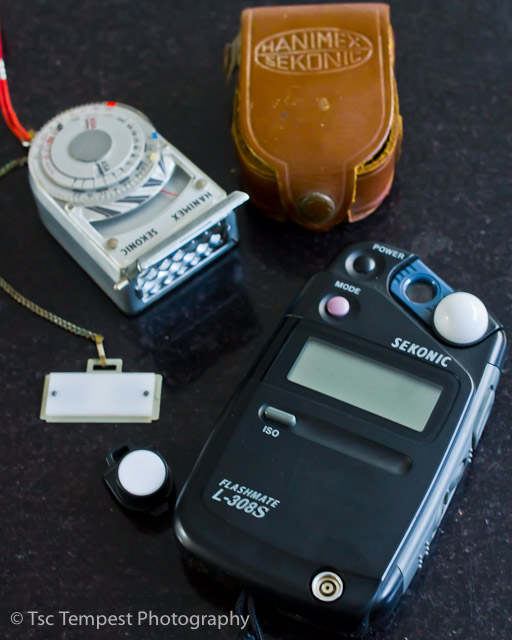 The great thing about the Zone ruler Exercise, was that I was able to check exposure using all the various meter methods, and guess what, in the controlled conditions of the test, they all came up trumps, all returning the same recommendation. Not bad, not bad at al. I can be reasonably confident, that in spite of it's age, the analogue light meter is going to give trustworthy recommendations, and due to its small size, this makes it an excellent pocket meter testing or evaluation ambient lighting conditions.
For today, that's what's in my
Line of Sight.