A Question of Light
As a photographer, the question of light is always a primary concern,  Too much? Not enough? How to use it? How to modify it?  etc.
However, it is quite easy to lose sight of what light might mean to others, especially those who are the poorest of the poor who live in the slums, with limited or no access to basic infrastructure, such as water, gas, electricity. Sometimes, the infrastructure is there, but the ability to buy in and pay for its usage is not.
To day I saw a brilliant idea, being reported on BBC World. A Litre of Light. A simple idea, using a PET bottle filled with water and sanitised with bleach to control algae growth, pushed through a sheet of corrugated iron, as flashing, and put through a hole in the roof of the tin shacks that make up people's homes.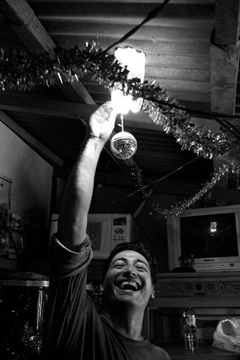 Using refraction, this solar light, creates about 50W of illumination within the shack during daytime, thus allowing people to work within their homes and not be left mucking away in the dark.
This is simple idea, and its impact, fantastic!
For today, that's what's in my
Line of Sight